The Story of LUCKY TRIMMER
Presented by Clint Lutes at the LUCKY THINKING Symposium, 2009
Upon arrival in Berlin in 2002 I quickly realized the lack of performing and presenting opportunities in the city.  The opportunities available at the time were primarily for evening length works or works-in-progress showings.  Being a young dance maker I wanted to show something in between – short, simple, yet complete performance works.
Finally in the fall of 2003 I met with friend and colleague Mimi Messner and discussed with her the possibility of starting a festival with the aim of presenting short dance and performance pieces.  The concept was simple, the preparations and risk minimal and we both agreed enthusiastically to take this venture together.
The concept was not an original idea, rather borrowed from shows I knew in New York, the most influential one being Terry Dean and Lisa Leanne Put on a Dance Show. Terry Dean Bartlett and Lisa Leanne Dalton, before she left dance to pursue a career in bull-riding, had been presenting this evening for several years. Now known as DANCEOFF!, they had built it into a not-to-miss cult-performance event showcasing up-and-coming talent in the New York scene.
Three months later Mimi, myself and Dr. Uwe Kästner stood before a group of dancers and choreographers in the top floor of the famous crumbling squat house called Tacheles. They had no idea what to expect from us nor from the show, but they trusted us to generate a hungry dance audience that they could entice with their twisting, gyrating, lollipop sucking dances. LUCKY TRIMMER Tanz Performance Serie was born, announcing 4 shows over 2 nights. The first show arrived with a heartbreak.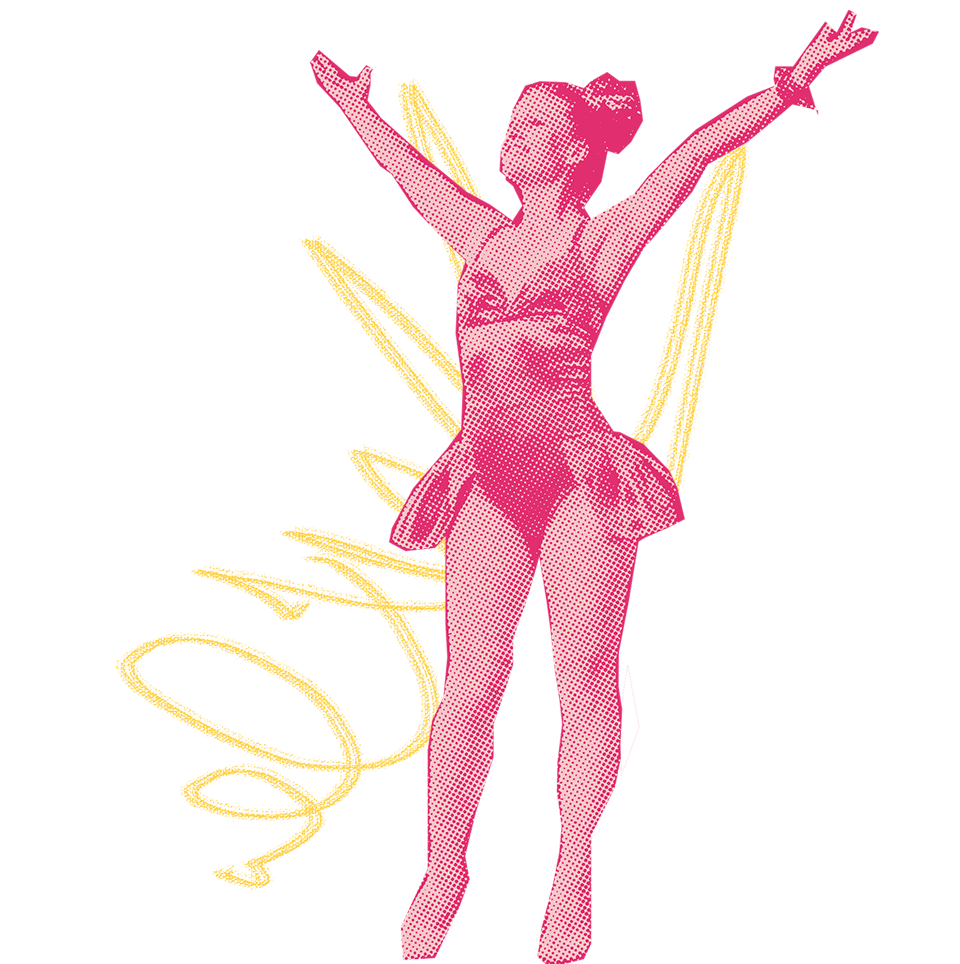 20 people plodded in and we were certain financial doom was upon us. One thing I didn't mention – we were and after 5 years still are, presenting this show without any public funding.
We could have chosen a location that would burden us with less financial risk, but Tacheles provided a neutral ground for both audience and choreographer due to its separation from the mainstream dance scene in Berlin.
Back in the mid-90's the Goldener Saal of Tacheles enchanted many up-and coming choreographers with walls confused of brick, mortar and wires. Unfortunately the ensuing years saw the building become more renowned with drug dealers and parties rather than arts. We hoped to re-animate that energy that once generously greeted the visitors ten years earlier.
The first show ended and the 20 member audience erupted into cheers. 8 diverse dance pieces, all less than 10 minutes, professionally organized but with a comfy feeling of grandma's hugs. Then we opened the door for the 2nd show…
We froze in a combination of fear, panic, joy and senselessness gazing at the line of people stretching down 3 flights of stairs! We rushed about with furrowed brows and smiling mouths. Our hard work took an energetic form and surrounded us that evening. Suddenly anything was possible.
After 4 shows on 2 consecutive nights we were able to pay 15 performers 20 euro! It sounds like a joke, but we had done it. We opened our reputations, financial securities, dreams and energy and were rewarded with an equal return plus major interest.
Over the next 5 years the LUCKY TRIMMER Team answered the questions as they came and solved the problems as they arose, barely keeping up with the workload, rarely having time to think ahead and plan.  The addition of PR and organizational Mastermind Doreen Markert one year ago has allowed us to begin to re-examine our institution, further define our identity and look to the future to clarify our ideas and goals.
We hope to continue showing work that we deem important for people to see and presenting a well-rounded vision of what contemporary dance and performance is today.
January 10th, 2009 I watched neuroscientist Jill Bolte Taylor's presentation online at the Ted conference 2007 titled 'How it feels to have a stroke.'  While having a stroke the left side of her brain stopped working.  Its agenda of orderliness and self-absorption also stopped and she was left to frolic in the free-thinking, generosity-heavy right half of her brain.  Whilst frolicking Jill felt free, in her words, 'Nirvana'.
The point of her sharing this experience has nothing to do with the positive side of having strokes, but to encourage others to be generous with what they have.  This is a major goal that we at LUCKY TRIMMER also encourage.  Here is my personal example:
Since 2004 I alone have put in thousands of hours into organizing 13 editions of LUCKY TRIMMER Tanz Performance Serie, 2 LUCKY TRIMMER tours to Freiburg and Heidelberg, one LUCKY TRIMMER open air performance at the Rohkunstbau Festival and one LUCKY DANCE SWAP shared program with our sister show DANCEOFF! at Tanz im August 2007.
Through offering this platform I have learned innumerable lessons and skills – word processing, public relations, German, mopping, how to ineffectively write grant proposals, crowd control, the value of double-checking and proofreading, that I want people who are not artists to come to and enjoy my shows, as well as where all of the dance studios and schools are in Berlin and the most effective way to reach them by bicycle.
I have presented 7 pieces, danced in 16 pieces, taught 5 classes, held one speech, given 5 interviews, written 2 articles. I have made connections to festivals and theaters in Barcelona, Edinburgh, London, Tel Aviv, Vienna, Freiburg, Munich, Zürich, Lyon, Grenoble, Frankfurt, Porto, New York and elsewhere.
Performers and choreographers in LUCKY TRIMMER have gone on to present work in major international festivals and theaters, have had their first breakthrough in the Berlin dance scene, have gotten jobs with modeling and photography agencies and have gotten a taste for what we believe is the way to run an organization.
By offering my limited pool of resources to others my own career has benefited greatly through connections and knowledge.
We at LUCKY TRIMMER try to provide choreographers and performers with a large audience, as little stress as possible and as much money as we can.  Most importantly is the artist's trust in us that they are in well-seasoned, professional hands.
We try to provide the audience with a well-rounded impression of what contemporary dance and performance can be.
We strive to provide an atmosphere encouraging cross-pollination and connection of audience and performer.  We search out audiences unfamiliar with contemporary dance, try to re-introduce audiences that have perhaps sworn it off and are offering avid dance audiences the chance to experience new names or keep up with old favorites.
Recently we established the non-profit LUCKY TRIMMER e.V. to encourage a direct connection between our audiences and performers.  We are seeking new sponsors to influence the development of the short dance genre and the Berlin dance scene as a whole.
Our current supporters are:  Amy Stafford – Studio Blixa 6, Turzak Clinical Group, TAUSEND Berlin, Katarina Witt, Kunsthaus Tacheles, Erhard Knote, DTB Rechtsanwälte, Arcoverde Pilates Zentrum, Berliner Fenster, Maja's Deli, DOCK 11 Berlin and The Sharon Stonewall Bar. In addition to these names, many other volunteers have offered their time to our organization and more are always needed.
We are developing methods to increase private sponsoring, allowing ourselves freedom to continue what we see as a successful venture in the freelance performance scene in Berlin.  As we have taken it into our own hands to supply this platform we hope those who value such ventures will see the necessity of supporting cultural endeavors.
The question to ask is how directly responsible we all wish to be in regards to which cultural events we deem important.
Here is to the next 5 years of LUCKY TRIMMER Tanz Performance Serie and LUCKY TRIMMER e.V.  As you have continually inspired and supported us, we hope that we can continue to offer you a place to perform, to watch and to share.  Let's all try to achieve what Jill Bolte-Taylor witnessed in those nanoseconds in the right side of her brain – generosity and positivity, possibility and connection, encouragement and acceptance.